As you grow older, you don't have to give up biking. It's easier than ever to find bikes that are comfortable, easy-riding, and accessible. From step-through frames to electric motors, many bike manufacturers have designed a wide range of bikes that are perfect for seniors.
If you are looking for the best bike for a senior woman, you've come to the right place. Here we'll review a few different models and styles of bicycle that can make exercising and commuting as a senior woman better.
Comparison Chart
The Discover Hybrid from Schwinn has almost all the features a senior biker may need. Comfort is key and this bike delivers a comfortable upright seating position that won't strain your back. Other comfort features include a suspension seat and ergonomic grips.
Schwinn designed this bike for daily commuting. A 21-speed derailleur provides all the gears you'll need and will make it easy for you to get around town. While riding the wheel fenders will keep you clean and you can use the rear cargo rack to store your bag or packages.
Available with 24" – 29" wheels and can accommodate riders from 4'8" to 6'2".
The hybrid bike frame is comfortable and makes riding the bike easy.
The steel alloy frame is lightweight and incredibly durable.
Pedal-assist and electric bikes have been gaining popularity recently. The electric motor helps you bike for longer while exerting minimal effort.
Whether you are unable to exercise for long periods or just want an easier commute, an e-bike might be the best choice for you as a senior woman.
The Ancheer folding bike is a great e-bike option for senior women. Pedal power is supplied through a powerful 350W motor that can reach speeds up to 20mph.
The included lithium battery gives you ample range as well and you can easily get up to 20 miles of travel in on a single charge.
The low-profile frame makes using this bike easy as well. Standing at only 20 inches, this bike is ideal for anyone who may have a hard time mounting a bike with a larger frame. It's also foldable and takes up minimal space during storage.
The LCD provides important information including battery life, travel distance, and mph.
The low-frame is ideal for riders between 5'1" and 6'3".
Electric bikes are quite heavy due to the battery and motor components.
7-speed transmission makes pedaling a variety of terrain easy.
Beach Cruisers combine timeless style, comfort, and easy riding. They are ideal for commuting and light exercise. The curved frame and upright riding position make this an ideal bike style for senior women.
Our pick for best Beach Cruiser, SixThreeZero outdid themselves when they designed the Around the Block series of bicycles. Every component on this bike was chosen to give the rider a smooth and comfortable riding experience.
The saddle is incredibly comfortable and features suspension, while the handgrips are foam-reinforced fleeting you ride in comfort for an hour. Other exciting features include rear and front rack mounts, optional fenders, and easily reachable handlebars.
Available in 7-speed, 3-speed, or single-speed, you have several drivetrain options. You can choose a single-speed bike if you ride mostly flat terrain and want a bike that requires minimal maintenance.
If you plan on tackling hills, choosing a 7-speed or 3-speed will make the ride a little easier.
The frame is designed to fit women ranging from 5' to 6' in height.
The upright riding position alleviates strain, back pain, and joint issues.
The 26-inch wide aluminum wheels give a smooth and cushioned ride.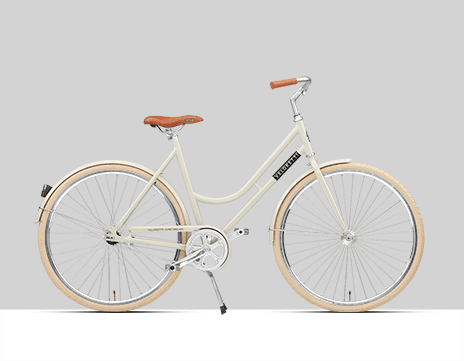 In the Netherlands, over 36% of the population use a bicycle as their primary mode of transportation. While there are several factors behind this statistic, Dutch bike design is a huge factor. They offer comfort and rideability that outperform most other commuter bike styles.
Dutch Bikes are designed to be convenient, and the Veloretti Robyn offers the perfect combination of convenience, comfort, and style for your daily commute. Combining modern bike components with timeless style, Robyn is the ideal Dutch bike for seniors.
All the components are high quality, and you can tell this bike was built to last. We found the aluminum frame to be lightweight and durable as well. Pedaling power is supplied through three drivetrain options from single-speed to 3-speed. This makes the bike easy to maintain and repair compared to 21-speed bikes.
Available in two sizes and can fit women from 5'3" to 5'9".
Aluminum components make this bike lightweight compared to other options.
You can choose between handbrake or coaster brakes for your bike.
Do you need more stability or storage space while biking? You should check out adult tricycles. These bikes offer a 3-wheel design, upright sitting position, and ample storage space.
Schwinn has been manufacturing bikes for over 100 years, and they are one of the most trusted bike companies in the world. The Meridian is their adult tricycle option, and it offers everything you need for a comfortable and safe bike ride.
The cruiser-style frame gives riders a comfortable sitting position and lets you easily get on and off the bike. The 3-wheel configuration provides added stability for riders and can also make riding easier for heavier riders. While this design may be heavier than a traditional bike, a tricycle gives you amazing comfort during your ride.
One of the best features of a tricycle is the added storage space. The rear basket on this bike is huge and can easily accommodate all your groceries after a day of riding.
Riders between 5'4" and 6'2" can comfortably ride the Meridian.
Available in 1-speed, 3-speed, and 7-speed configurations.
Comes in a variety of colors to match your unique style.
Summary
As you can see, there are plenty of different bike styles that will work great for senior women. Whether you choose a beach cruiser for daily riding or an electric bike for commuting, our list of best bikes for senior women has an option that will meet your needs and budget.