Mountain biking with the right bike is exhilarating. Riding with the wrong bike is a pain in the back, legs, arms, and wallet. It's tempting to find a bike as cheap as possible, but that leaves the door open for poor performance and a loss of love for mountain biking.
A $4000 budget is reasonable and allows for some great options. Brands like Transition, Santa Cruz, and Giant are well-known for producing quality bikes that are reliable in any trail condition.
The big brands aren't the only ones who can fashion a great bike. Small manufacturers like YT and Scott keep up with solid full suspension bikes. As a result, there's no shortage of great builds when finding the best full suspension mountain bike for under $4000.
Comparison Chart
Best Full Suspension Mountain Bike Under $4000
Finding a bike that fits your budget doesn't mean sacrificing quality or reliability. These are the best full suspension mountain bikes under $4000.
Ibis crafts a much pricier carbon version of the Ripmo AF. The Ripmo AF starts at $3,899, putting it under the $4000 budget, and making use of every dollar. With its aluminum frame, it's sturdy and affordable.
To make things more affordable, Ibis made some minor tweaks to open up the target audience, and to great success, too.
Ibis uses a custom DVO JadeX tune for the Ripmo AF. The Ripmo AF uses both a coil and air suspension to deliver enough air while maintaining a smooth ride. It has 160mm fork travel, 147mm rear travel, and 29-inch wheels are standard. What's really cool is the 2.6-inch clearance for wider tires.
Ibis gives the Ripmo AF an advanced geometry with an aggressive 72-degree seat tube angle for incredible reach. It tears through ascents with a DW Link suspension platform that also provides excellent descent capability. As a result, it's competent on the trail.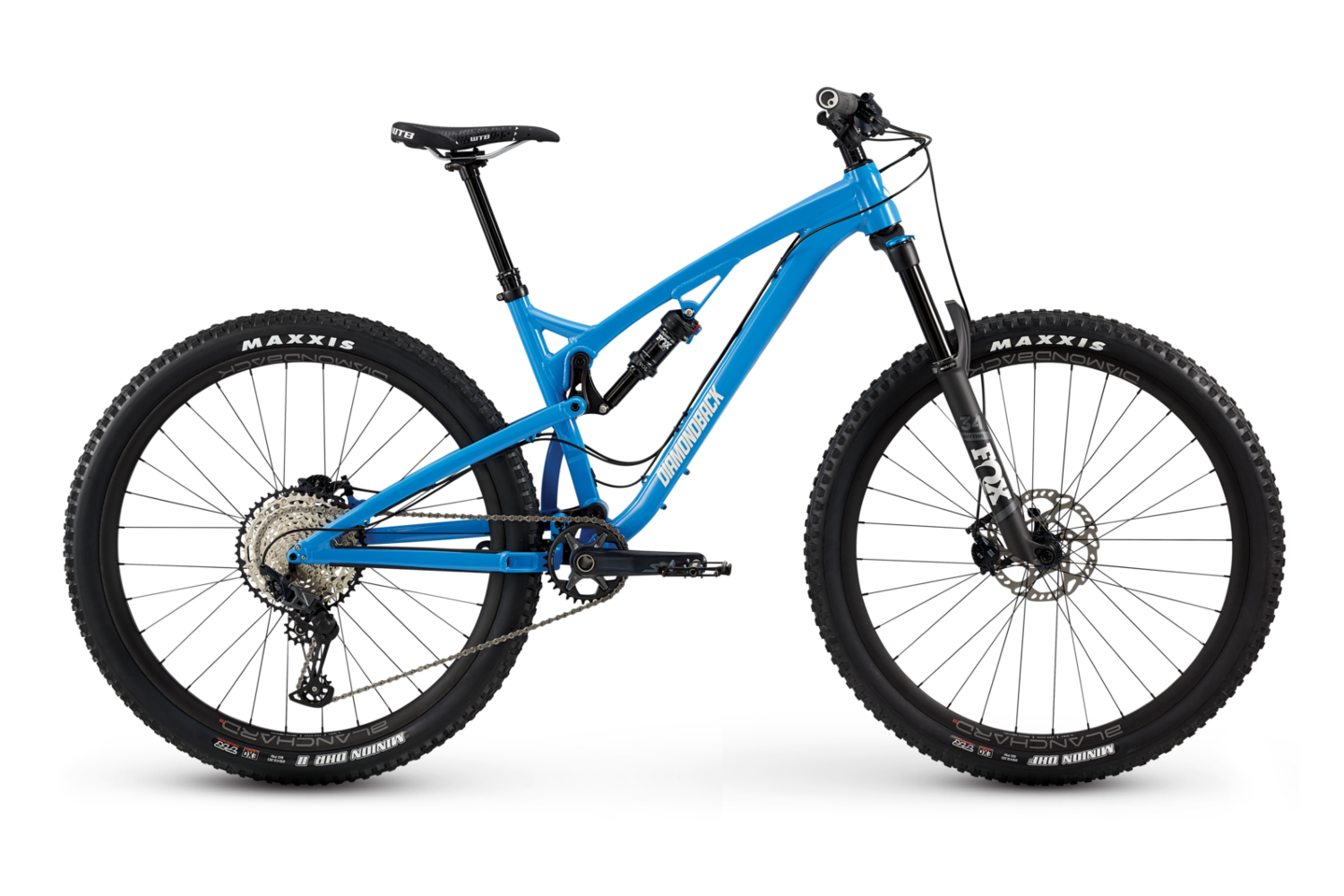 Diamondback has a line of smaller Release bikes based on their Catch and Release models. The Release 29 2, however, is arguably their best. For $3400, you get Diamondback's popular 29-inch bike that uses 6061 T-6 aluminum for a lightweight frame.
The Level Link suspension platform used on the Diamondback Release 29 2 pairs well with its hydroformed frame. It allows for a 130mm front fork travel, and the Fox Float DPS Performance shock offers a dream-like climb, even on the worst uphill terrain.
Shimano SLX components include the shifter, brake levers, and front hub. The front fork is a Fox Rhythm 34 with a 1.5-inch tapered steerer for precision riding. Diamondback also uses Maxxis Minion DHF and DHR tires with 2.3-inches of width for excellent handling and grip.
GT Bikes updated the Force 29 in 2020. Previously, it had 27.5-inch wheels, but the change to 29-inch wheels offers a smoother, quicker ride, despite the increase in size. In addition, it retails for only $2520, which is a bargain compared to other bikes, yet it provides just as much capability.
The GT Force 29 is an enduro bike built specifically for those looking for steep and challenging terrain. It features an aluminum frame with 160mm front fork travel and 150mm rear travel. Plus, GT loaded the Force 29 Sport with Shimano parts, including an 11-speed drivetrain.
GT supplies the Force 29 Sport with Tektro M275 hydraulic disk brakes for unbelievable stopping power, perfect for those steep descents. Like the Diamondback, the Force 29 Sport uses Maxxis Minion DHF tubeless tires, which pair well with the larger wheel size.
Many short-travel bikes have their limits when pushing more distance. The Tallboy, on the other hand, can tear up short travel trails or long-distance hauls with refined, modern geometry and a lightweight aluminum frame.
The D-Spec retails for $3,699, but plenty of upgrades are available that push the price over the $4,000 budget.
The Santa Cruz Tallboy Al D-Spec uses a RockShox Recon RL fork with 130mm of travel up front. For the shock, the Tallboy has a Fox Float Performance DPS for 120mm of rear travel. Santa Cruz uses a unique 65.5-degree head angle combined with the short offset fork to blend short and long travel ability.
In addition to RockShox and Fox, SRAM components find a home on the Tallboy. The rear derailleur, cassette, shifters, crankset, and brakes are all SRAM models. Maxxis Dissector Exo tires come standard for the front, and Maxxis Rekon EXO tires are in the rear.
The Trek Fuel EX 8 is the perfect intersection of an uphill climber and technical trail charger. Trek does an excellent job catering to the rider size, providing wheels that range from the 27.5-inch for the smaller riders to the 29-inch for the larger. Each size pairs with an aluminum alloy frame for lightweight reliability.
Trek Sells the Fuel EX 8 for $3,930, which is among their more affordable bikes. It does come with some pretty high-quality parts, though. For the fork, the Fuel EX8 uses a Fox Rhythm 34 with 140mm travel. The rear has 130mm travel and a RE:Aktiv damper.
The Trek Fuel EX 8 uses Bontrager Line Comp 30 tubeless tires up front and back. A Shimano XT drivetrain joins the collection of high-quality parts. It is a 1×12 gear setup with a 51-tooth climbing gear and 54-tooth Rapid Drive hub for unreal engagement through climbs and descents.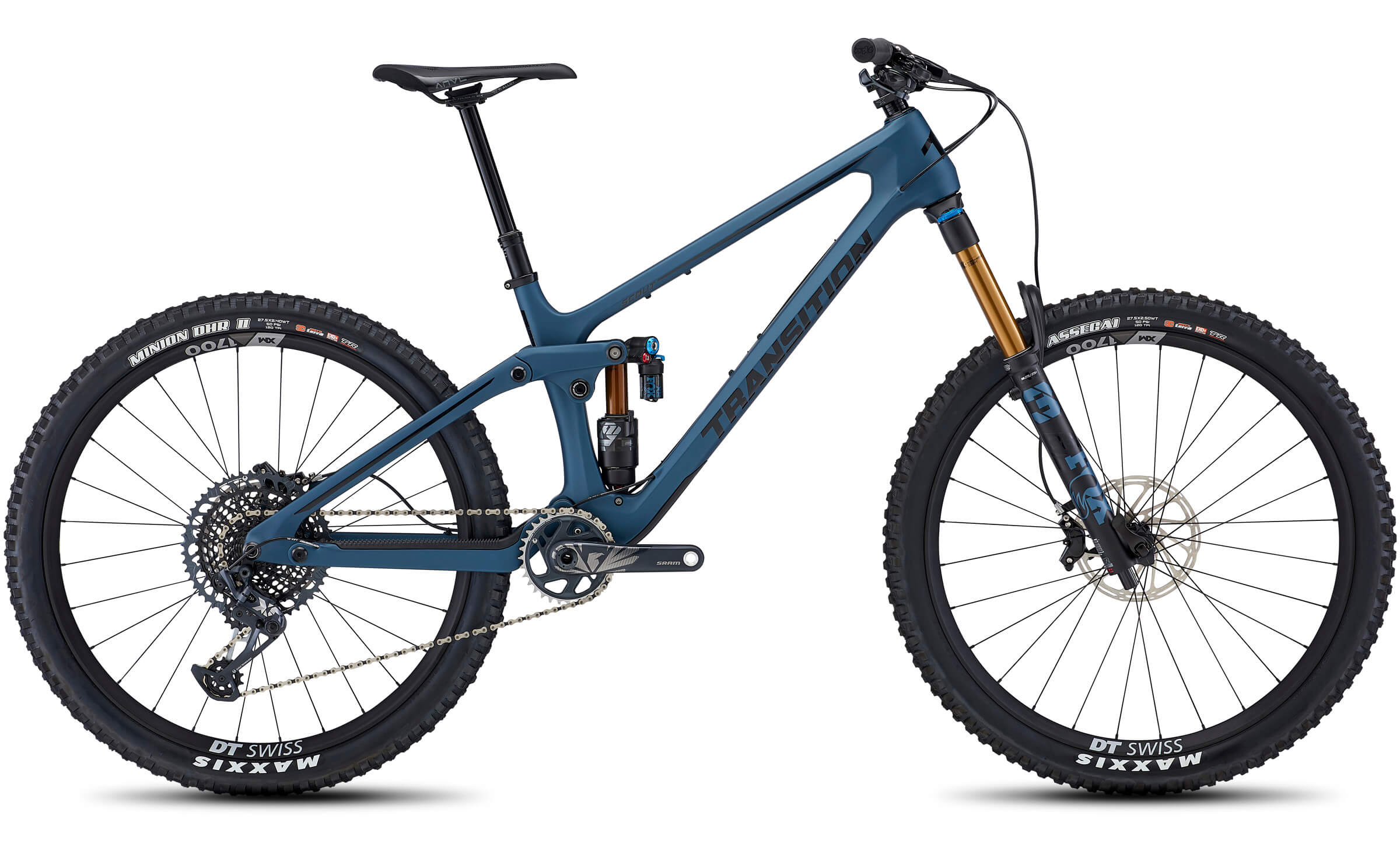 Transition does a great job of offering bikes in both carbon and aluminum alloy to cover a wide variety in prices. For example, the Scout NX Alloy starts at $3899. It has a sporty geometry but isn't afraid to send it over big terrain, especially with a Fox Float Rhythm 36 front fork with 150mm of travel to absorb rugged and steep terrain.
Transition supplies the Scout NX Alloy with flush rubber frame protection in critical areas. Not only does the rubber provide this protection, but it reduces unwanted noises from the frame.
Plus, the frame hides the hydraulic lines for a clean look while remaining secure. Under the frame, there's also an accessory attachment to unload the backpack.
The frame of the Scout NX Alloy provides up to 2.6-inches of clearance for wider tires. With the additional width, tires that better grip the trail further expand the usefulness of the Scout NX.
Finally, the GiddyUp suspension system optimizes short jump compliance, strong mid-stroke support, and 140mm of rear tire travel.
A playful, fast XC racer for less than $4,000 seems like a tall order. But, finding one for only $3799 is a dream come true. The Fezzari Signal Peak refines the rider position with a 67-degree head tube and a 75-degree seat tube angle.
Combined with the lightweight carbon frame, these angles give the Signal Peak Comp a sharp edge against the competition.
The Fezzari Signal Peak Comp uses internal cable routing in a system Fezzari calls FutureProof. A RockShox SID Select Charger RL Air provides the front fork with 120mm of travel and a tapered steerer for strength. The rear sports a RockShox SIDLuxe Select + RL shock with 155mm of travel in a custom-tuned package.
SRAM components once again make an appearance for the drivetrain. Signal uses an Eagle NX 12-speed system with an SRAM shifter and rear derailleur for the Singal Peak Comp.
Fezzari also implements a custom tuning for the Signal Peak's crank. Maxxis Dissector and Rekon tires round out the complete setup for this incredible bike.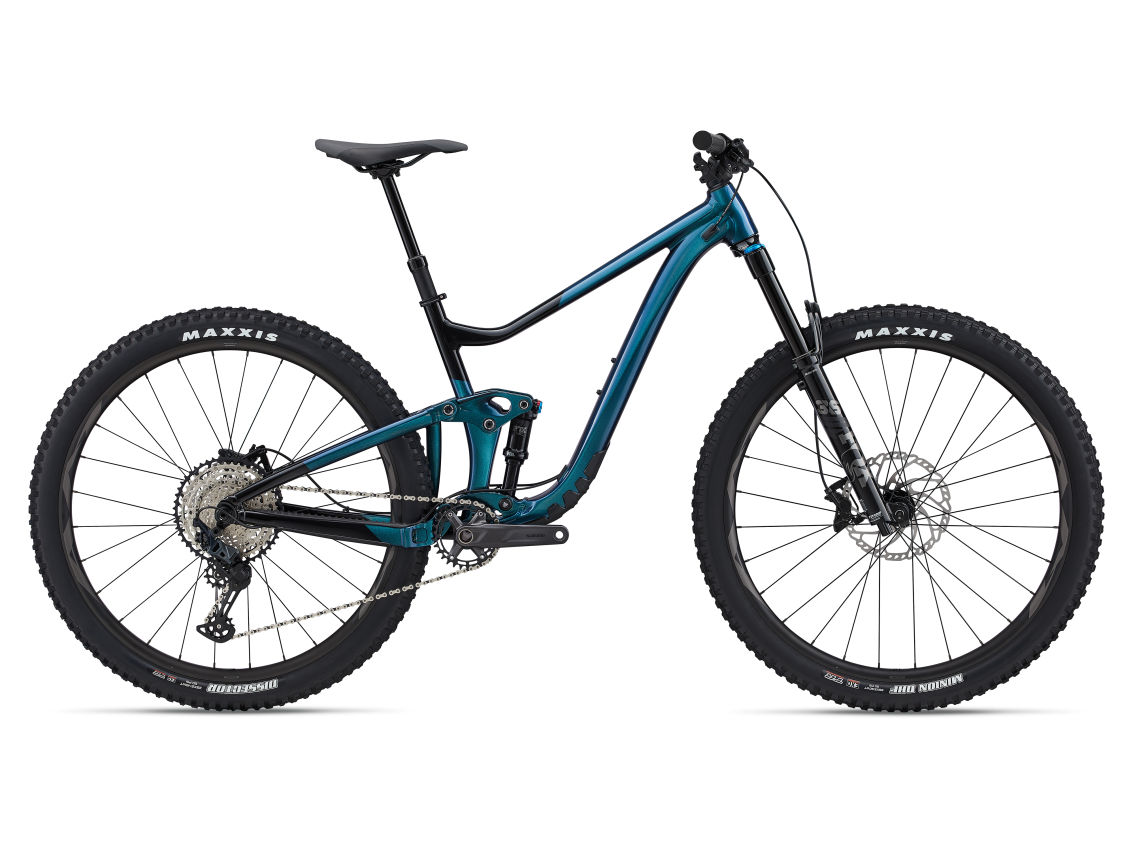 Not all terrain is the same. That's why Giant created the Trance X 29 1 for customization for any terrain. The Trance X 29 1 is $3750 and built to take on the world right out of the box. On the rocker arm, a flip-chip allows riders to change the frame geometry to suit the conditions or riding style.
Giant's Trance X 29 comes with a geometry optimized for 29-inch wheels, but the level of control is unmatched. The aluminum frame is durable and pairs well with the Maestro rear suspension that provides 135mm of rear travel and 150mm for the front fork.
Giant also uses its patented Overdrive system, which is an oversized fork steerer tube. This system promises excellent front-end handling. The Trance X 29 also uses tubeless tires for fewer flats on the single track. These tires have less resistance and make for a smoother ride.
Some bike experts will have you believe that to get a carbon frame, you must spend more than $5,000. They must not have met the Canyon Spectral CF 8.0. The Spectral CF 8.0 comes with a lightweight carbon fiber frame for only $3499.
Canyon officially rates the Spectral CF 8.0 as capable of handling Class 4 terrain. Thanks to the RockShox Pike RC front fork with 150mm of travel, it can handle many obstacles on the trail. Plus, a RockShox Deluxe RT rear shock completes the suspension system and uses a DebonAir damper.
Canyon supplies the Spectral CF 8.0 with SRAM drivetrain components. These components include the rear derailleur, shift lever, bottom bracket, cassette, and chain. SRAM also makes up much of the brake system.
Maxxis Minion tires make another appearance and add 2.6-inch clearance for balanced contact and handling.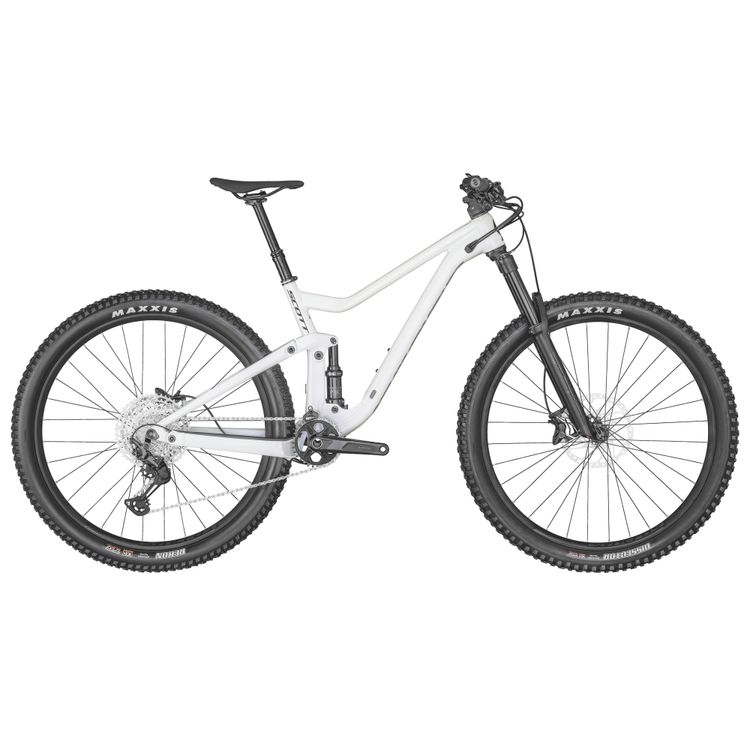 Another excellent full suspension mountain bike under $4000 is the Scott Genius 940. Starting at $3499, you get an affordable aluminum bike ready for any trail. Custom butted 6011 aluminum alloy comprises the frame material, weighing just over 30-lbs.
Scott provides the Genius 940 with a RockShox Revelations RL3 Air with a custom Charger 3-Mode damper and 150mm of travel for the front fork. A Fox Float EVOL Performance Trunnion shock provides 150mm of travel in the rear. Scott designed the Genius 940 to handle both 29-inch and 27.5-inch wheels.
The Genius 940 comes with Maxxis Dissector and Rekon tires in a tubeless system that's become commonplace. A Shimano XT rear derailleur joins Shimano shifters, crankset, BB set, chain, cassette, and brakes. The setup provides a perfect component fit.
Versatile and affordable is YT's motto with the Jeffsy Core 2. The Jeffsy Core 2 is perfect for beginners and experts alike, and with a starting price of $2999, it fits right into most budgets.
It uses an aluminum alloy frame and has configurations for 27.5-inch wheels or the more prominent 29-inch wheels.
YT worked hard to seal every bearing on the Jeffsy Core 2 to protect components from dirt and wear. A Fox 36 Float Performance fork with 160mm of travel joins a Fox Float DPX2 Performance shock that also provides 160mm of travel in the rear. It's the perfect balance for all-mountain up and downhill action.
The YT Jeffsy Core 2 is capable of long-haul trips or short rips thanks to the Fox suspension components. Still, it comes with a flip-chip for further frame customization.
The downtube comes with a rubber frame attachment for protection. It's easily bolted on and is replaceable once it gets worn out. The frame protection also helps with unwanted noise from the frame.
Final Thoughts on Best Full Suspension Mountain Bike Under $4000
$4,000 is a lot to spend on a bike. Finding the right one is not only an investment but also a tool in getting the performance and fun you're looking for.
Many companies sell full suspension bikes, but a compilation of parts that don't work well together will leave you huffing and puffing instead of climbing and ripping.
Full suspension doesn't have to cost a fortune, and these bikes prove that affordability and capability do indeed meet. Although many frames come in aluminum alloys, a few carbon options are affordable.
Plus, a wide variety of features, technologies, and geometries aim at getting the most from your time on the trail.