If you're a petite woman, finding the best mountain bike can be a daunting task. There are so many different models on the market, and it can be hard to know which one is right for you. In this guide, we'll help you find the perfect mountain bike for your needs. You'll learn how to choose the right one for your size and budget.
Before we begin, we need to answer a very important question: What is the best mountain bike for me?
While this may seem like an easy task, it's quite difficult. The truth is that the "best" mountain bike is different for everyone and depends on your needs and wants.
The best mountain bikes for petite women will either be small or come with extra adjustable components, which ensures that you can shorten the bike length to fit your height better.
Here's a round-up of the best mountain bikes for petite women.
Canyon has come up with the perfect solution for petite women with their new Spectral 6 WMN mountain bike. This lightweight aluminum frame bike is perfect for those with a smaller build.
The downtube cover and integrated seat clamp make it easy to keep moisture and dirt from ruining the gears. The best part? This model comes in a size that fits small body types easily.
This best mountain bike for petite women is not only lightweight and durable, but it is also very comfortable.
In addition, the best part about this bike is that it will fit a wide range of heights and weights, from 4 feet to almost 6 feet.
Canyon makes it easy to find the perfect size. All you have to do is enter your height and inner leg length, and they will match you with the perfect fit.
Pros
The lightweight aluminum frame makes it easy to handle, even for beginners.
The compact frame comes with 27.5-inch wheels that are great on almost any type of terrain.
With 12 gears, you'll be able to tackle steep climbs and descents downhills.
Cons
Not available in a larger size, so taller women should look elsewhere.
Only available with 27.5-inch wheels.
Expensive, but they do offer to finance.
Ascent 26″ Mountain Bike by Retrospec is another good option for petite women. The bike features a 6061 alloy frame and suspension fork, Shimano drivetrain, and disc brakes.
The frame is made with lightweight alloy, making it much easier to maneuver than some heavier bikes. The suspension fork made the ride a lot smoother.
The Shimano drivetrain provides a lot of gears to choose from, which comes in handy on different terrain.
It also has great brakes. The disc brakes stop the bike quickly and smoothly.
Overall, this mountain bike comes highly recommended to anyone looking for a good quality ride at an affordable price.
Pros
The frame is lightweight, which is easier to handle for smaller riders.
High-quality suspension provides a smooth ride, no matter the terrain.
Several gears to choose from based on the terrain.
High-quality brakes for a smooth stop.
Cons
The seat can be difficult to adjust.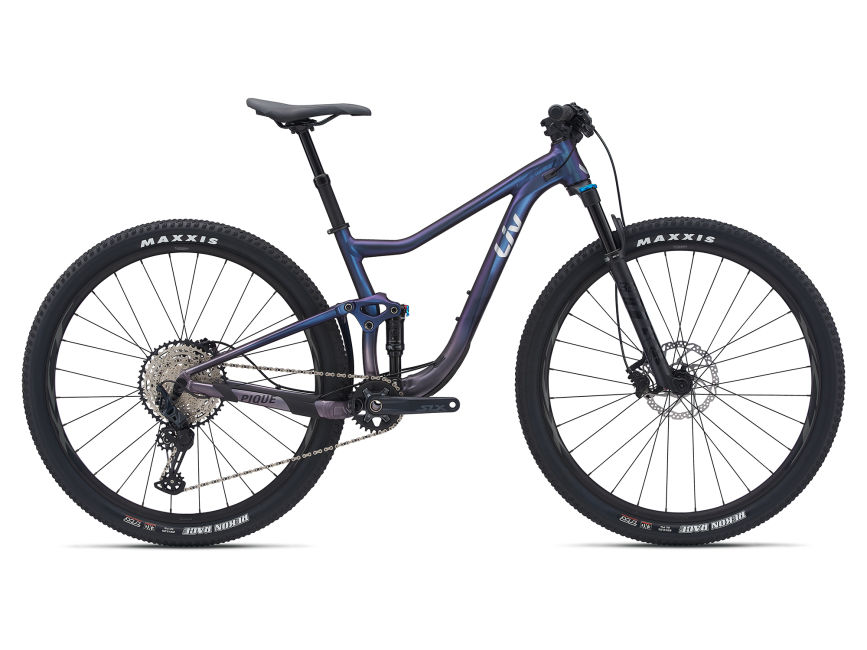 Liv Pique 29 1 is a lightweight bike with a suspension system that has been tuned for petite women. The frame is made of ALUXX SL-Grade aluminum, making it tough and durable.
The bike has several features specifically designed to make it easier for women to ride. Among these features is the cross-country-specific dropper seat post, which is perfect for speed and makes it easier for petite women to lower the seat when descending.
Tools are not required to change positions or to adjust your seat height on this type of dropper post. The Liv Pique 29 1 mountain bike is easy to control and comfortable to ride but still gives you great speed and performance. If that is right up your alley, this might be what you're looking for!
Pros
Extremely lightweight
Suspension system tuned for petite women
Cross-country specific dropper seat post
Frequently asked questions
If you still have questions about finding the best mountain bike for petite women, check out the questions below.
What size bike should a 5-foot woman get?
Many petite women can ride a size small or medium bike or a 24-inch frame. However, if you are between 4'10" and 5'2″ tall, you should probably ride a size small.
Can petite women do well with men's bikes?
Absolutely! Many petite women can ride a size medium, or even a large, bike. It's important to remember that the most accurate way to determine your proper bike size is by your height and inner leg measurement.
Do I need to know how to assemble my own bike?
Some bikes, like cruiser bikes, come assembled and don't need any assembly. But most bikes, including mountain bikes, road bikes, and hybrids, require some assembly. The good news is that most bike shops offer free assembly when you buy the bike there.
And if you're feeling adventurous, you can also try to assemble the bike yourself.
Can any woman ride a mountain bike, or do you have to be strong enough?
Mountain biking is a fun sport for anyone, regardless of strength or fitness level. Many women, including petite women, enjoy mountain biking.
How much should I expect to pay for a mountain bike?
A decent quality mountain bike sells for between $200 and $5,000. However, if you buy used, you can find one in good condition for less than $150.
Conclusion
It's important to find something comfortable that fits well when looking for the best mountain bike for petite women.
You also want a bike that can handle different types of terrain, so you can take it on trails or even around your neighborhood. We hope this guide has helped you narrow down your choices and find the perfect mountain bike for you!