Every rider deserves an experience they can enjoy and appreciate. Biking can be a great way to exercise, a form of transportation, and many describe it as being therapeutic. Overall, cycling has amazing mental and physical benefits for riders – which is why it should be accessible to everyone. If you've found yourself searching for the "best road bike for a heavy rider," look no further.
Favorite Road Bikes for Heavy Rider
Not every bike is right for every kind of rider. While it's important to test out any bike before buying, it helps to have some kind of guidance on the best road bikes for heavy riders. This list includes some different types of manufacturers and styles so you can choose a bike that's right for your body and your needs as you hit the open road.
Comparison Chart
This lightweight and durable bike is a favorite for obvious reasons – not only is it affordable, but it's also well built to fit a variety of climates and has plenty of brand recognition. Merax is known for its quality bikes, and the Finiss has become an especially popular fitness bike for heavy riders.
There's a long list of perks for this bike, including:
Easy to Assemble
Heat-Resistant Frame
Mechanical Disc Brakes
A High-Quality Suspension Fork
A standout feature of this bike is the 21-speed shifters and derailleurs. Not only does it make shifting gears easy, but the powerful front and rear breaks included make this bike an ultra-safe choice for those that may need to stop on a dime.
Schwinn Phocus 1400
This Schwinn is very popular and for good reason among heavy riders – the large size can easily accommodate riders of up to 6'3", and could go higher! This bike has been touted as being especially easy to handle for beginners and includes a carbon fork and aluminum frame to make riding fun and easy.
If you don't plan on taking your bike out of the city, then the PFIFF Adult Scooter Trike can be a wonderful choice for heavy riders. With its set back seat, this ride can be easier on the joints.
The three-wheeled set-up allows for a higher weight limit on the bike, and you have the option to pedal around or make use of the 48V battery or 1000W brushless motor. With the battery at full power, you can go up to 25 miles per hour, making this perfect for a commute. Plus, the built-in basket space ensures your backpacks, groceries, and more will be safe on the ride.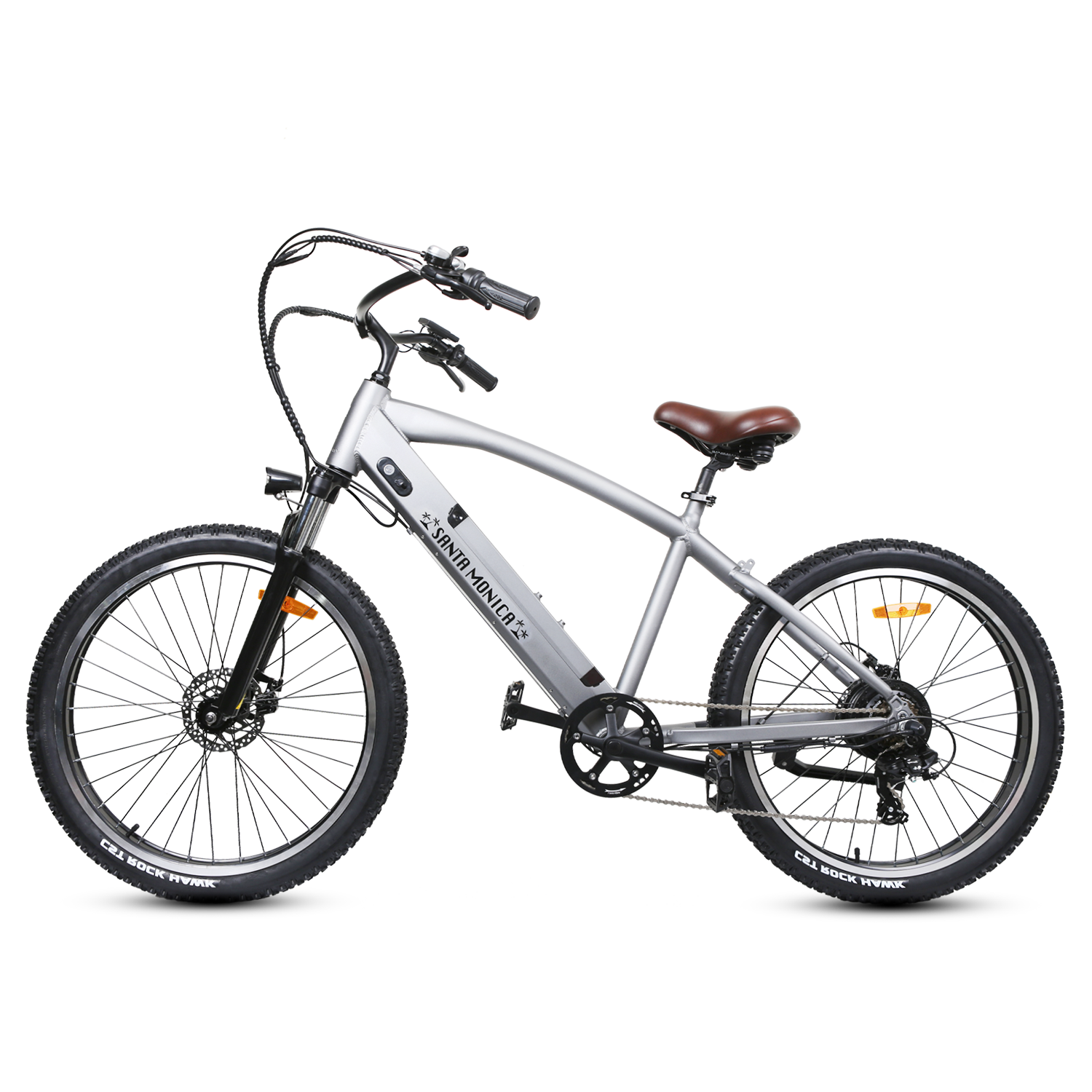 With a strong aluminum frame, this half-cruiser, half-road bike is popular for riders of all sizes. A big perk for heavy riders is that the Nakto features 4-inch wide tires. This not only keeps your ride smoother, but wide tires can also help with the distribution of weight for heavy riders.
This bike also has a 350W motor, and thanks to that power, it's fast – this bike can go up to 45 miles per hour, making it perfect for those who want a bike for fun and to suit their transportation needs. While this motor can also make the bike heavier, its high-quality build should ensure that you won't need a replacement for many years.
As we mentioned before, larger tires can make or break the best road bike for heavy riders. While there are plenty of fat tire bikes out there to consider, the ECOTRIC is especially good due to its durability and reliability.
Other perks of this ride include:
Strong Alloy Frame
Adjustable Seats
7-Speed Gears
The Option for a 500W Brushless Moter
LCD Displays
Another reason these bikes are popular with online shoppers is that they are delivered mostly pre-assembled. This makes them great for those who don't want to deal with the hassle of putting their bike together by themselves.
What To Look For When Shopping
While all the bikes on this list are excellent choices, you may find yourself wanting to do some in-person shopping and test riding. If that's the case, then there are several things you may need to look for as your search for the best road bike for heavy rider, including the wheels, material, and much more!
Wheels
As we mentioned, a bike with larger wheels can help stabilize a larger rider. In general, taller or bigger bike enthusiasts should look for bikes with around a 26-in wheel, as anything larger than that size may make the bike slower.
It's also important to note that when people talk about bike size, they're referring to wheel size. Make sure to always check the bike size chart of a manufacturer's website to get the best fit for you. A bike that is too small can cause knee strain, lower back pain, and more.
Material
The frame of a bike affects its weight, the comfort of your ride, and overall performance. Heavy riders will need to search for especially sturdy frames that can be relied on under stress.
There are three main types of frames in circulation: steel, aluminum, and carbon fiber. Between these three, heavy riders should search for bikes made of steel or aluminum. If you can find one, metallic fiber is also a great choice.
Brakes
Having safe and effective brakes is crucial for road safety, and heavy riders have to put more pressure on their brakes to ensure a clean stop. Your main two options are mechanical disc brakes or hydraulic brakes. There are pros and cons to both of these brakes, so it often comes down to personal preference.
Both use the same mechanical system to stop the bike using friction, but the major difference is how that force is transmitted. Hydraulic brakes (which are more effective) use a fluid-filled brake line, while mechanical discs (which are easier to maintain) rely on a steel cable.
Choosing Your Personal Best Road Bike for Heavy Rider
At the end of the day, bikes are never going to be a one size fits all vehicle. Any of these bikes can be amazing for a heavy rider depending on their needs and locations. By doing your research, you can be ready to choose the right bike for you.