If you're looking to hang your bike in the garage ceiling without damaging it then you've come to the right place. In this article we'll show you the best way to hang bikes safely and easily.
Storing bikes can be a challenge. You don't want to leave them in the garage to be potentially run over by cars, but you also wouldn't want to take up precious wall space that could house other storage items. What is the solution for this? Put them on the ceiling!
How to Hang Your Bike in the Garage Ceiling Without Damaging It
The best way to hang bikes from a garage ceiling is by using hooks designated to hold bikes. You shouldn't use hooks not intended for use with bikes. They can break off from the ceiling. This will damage your garage ceiling, the bike, and any other items underneath the bike.
Here are our top three picks for hooks to hang your bike.
Saris Glide Bike Storage Ceiling Rack
Gladiator GarageWorks Claw
Blue Hawk Garage Bike Hook
Comparison Chart
This is a great bike rack for avid bikers to install in the garage ceiling. The gliding design gives you access to any bike when you need it. The bike rack is made of alloy steel.
It measures six feet long and five feet wide. This is enough space for up to four bikes, each one on a gliding bar. It supports up to 50 pounds per bike. Though it is on the pricier side of bike storage options, it is a necessary tool for people who need easy, frequent access to their bikes.
This is a leveled-up version of a standard bike hook. This claw is easy to install on your garage ceiling. It is made with high-strength plastic and can hold up to 50 pounds. It easily supports the weight of both adult and child bikes.
It is equipped with a push and lock system, which lets you open and release the bike hook with one easy push. You can install this into a ceiling joist or a bare joist.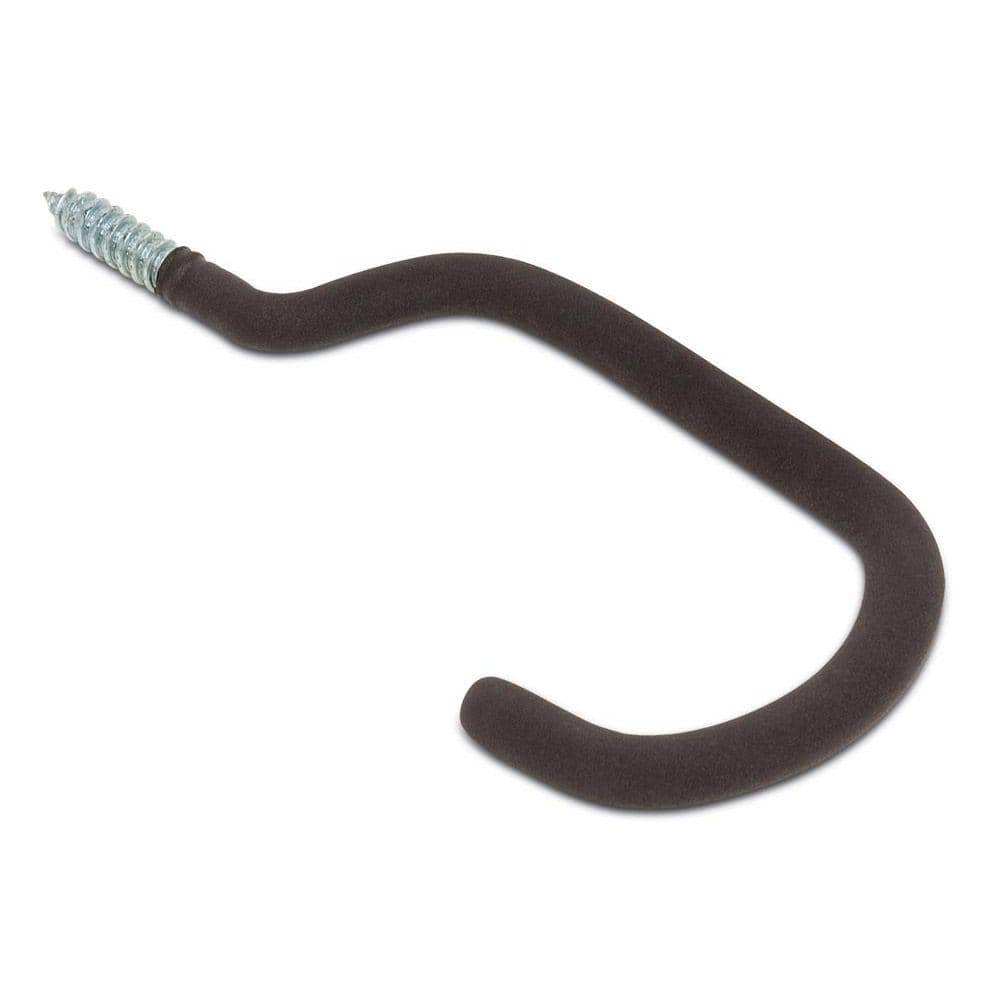 This is the most cost-effective option for storing your bike. These hooks are available at many chain home improvement stores and online. They usually come in packs of one. If you have multiple bicycles, you will need to buy enough hooks to accommodate this.
These hooks are great for hanging light-framed bikes. The storage hook easily screws directly into the ceiling. It can hold up to 50 pounds when installed in a stud. Made of steel with a vinyl coating, it is heavy-duty and durable.
Things to Consider
There are some things to consider when installing a bike rack on your ceiling. The most crucial point to be aware of is the stability of the garage ceiling.
Are you installing the hook into a ceiling joist? If not, how will you ensure stability?
How often will you need to take the bike off the rack?
Will you be able to lift the bike and take it on and off the rack by yourself?
Does price point matter to you?
How long do you need the hook to last? Will you be moving soon? If so, is the rack you choose easy to uninstall and take with you?
There are plenty of other considerations that will vary based on your needs. Always be aware of your needs first, then find a rack to fit you instead of the other way around.
Frequently Asked Questions
Here are some of the most popular questions regarding the best way to hang bikes from a garage ceiling.
How to hang a bike in a garage?
This will vary based on the hook or storage system that you buy, and regardless, the products will always come with instructions. A good rule of thumb is to install them from a ceiling joist. This is important for stability and to mitigate damage to your garage and your bike.
Is it a bad idea to hang a bicycle by its wheel?
As long as the bike rack is intended to have the bike hang by the wheel, it is not a bad idea. Some systems do not require this. However, it is not the best idea to store a bike by the wheel if the system you are using is not designed for it.
It is possible that hanging the bike by the wheel can put undue pressure on the rim, but this is not a high risk.
Conclusion
Buying a hanging bike rack or storage system is something that you should research heavily before spending your money on it. The top three options we have chosen are some of the best products out there. However, there are plenty more on the market. Be sure to pick the best option for you!